Skip to Content
Tree Trimming, Pruning & Thinning
Ottawa's Pros for Tree Trimming and Much More
When it's time to have your trees trimmed, Ottawa residents trust Ottawa Valley Tree Experts. We've been in the business since 1986, and in the last 30 years, we've developed a reputation for excellence in everything we do. Our team is well-trained to complete thorough tree trimming, pruning, and thinning services. Don't know which one you need? Our arborists would be happy to evaluate the trees on your property and make an expert recommendation. Learn more about how these services can benefit you in the long run.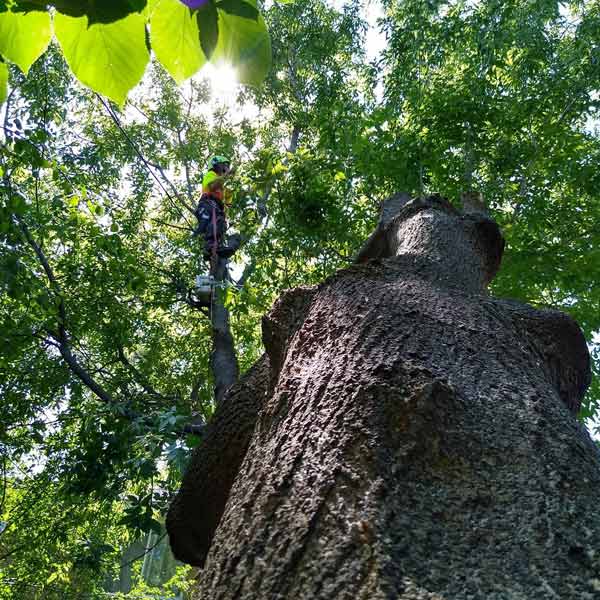 You'll Benefit from Tree Trimming
Tree trimming is a crucial aspect of tree care you shouldn't neglect. Besides enhancing the beauty of your tree and overall landscape, this service affords you many other benefits. Here's a quick overview of some of the advantages of regular, professional tree trimming:
Improved tree health and increased exposure to sunlight
Ability to detect diseases before they worsen
Reduced risk of damage or falling branches
Added value to your residential or commercial property
More budget-friendly than mitigating damages
What Is Tree Pruning?
While the terms tree trimming and tree pruning are often used interchangeably, there is a distinction between the two. While trimming is typically requested for aesthetic concerns, pruning is more often used to protect your trees' health. Professional tree pruners will remove any safety hazards, including broken branches or damaged bark. Although tree pruning focuses on making your property safe for everyone, it also ups the beauty of your outdoor space.
Do I Need Tree Thinning Services?
Tree thinning is useful for property owners who notice their trees becoming too thick and full of branches. While thicker trees mean better shade, they can also spell trouble. More branches often result in more dead branches that fall and become a hazard to anyone on your property. Properly thinning your trees allows them to develop into much healthier plants and controls the risk of tree diseases.
Providing Residential and Commercial Service
The team at Ottawa Valley Tree Experts is proud to serve homeowners and business owners throughout Ottawa and the Ottawa Valley. We're well-equipped to address any concerns with trees on residential properties, as well as those on commercial grounds. Simply talk to our team about which service you need or have us come out for a visit to make a recommendation. We're always happy to consult with you and take into account your residential or commercial needs before beginning work on your trees.
Reach Out to Our Tree Experts Today