Skip to Content
Providing Emergency Tree Removal in Ottawa and Beyond
At Ottawa Valley Tree Experts, we want to help you ensure your residential or commercial property stays safe. Unfortunately, damaged trees can make keeping your property safe a challenge. If a storm or dying tree is putting your family or customers at risk, don't hesitate to get in touch with us. Our team has the expertise necessary to provide emergency tree removal services at any hour of the day. We've served the Ottawa and Ottawa Valley communities for over 30 years, so you can have peace of mind we'll get the job done correctly the first time. Find out more about this exceptional service.
Do I Need Emergency Tree Removal?
Homeowners and business owners come to us for a plethora of reasons related to emergency tree removal. You may need tree removal for any number of reasons, but some pose an immediate danger to you and others living or working on your property. In these cases, you need to request service from a certified tree services company as soon as possible. At Ottawa Valley Tree Experts, the most common emergencies we address include:
Storm Damage
Sometimes, a strong storm comes along and damages or knocks down a tree. If you have debris scattered across your property or other hazards left behind by the storm, our team can help. We'll remove the tree and clean the area so that you, your family, and your customers can stay safe.
Leaning Trees
If a tree on your property is leaning so much that it could fall over onto cars, buildings, or passersby, you'll want to request emergency removal. Our services prevent tree branches from damaging your property, which would leave you liable for repair costs or injuries.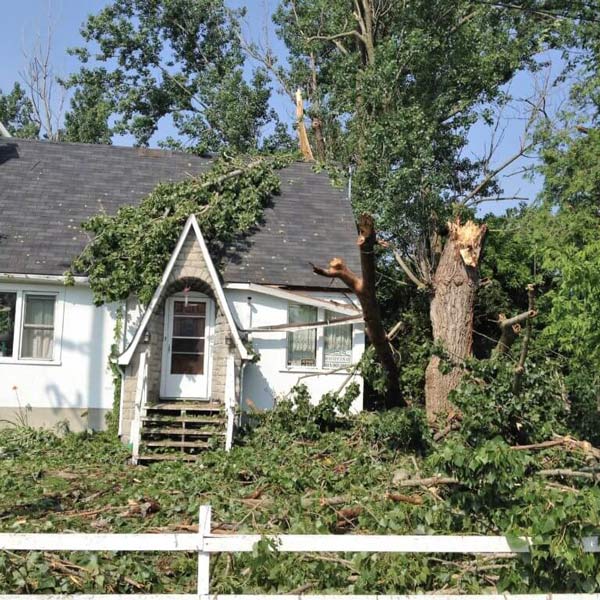 What to Expect from Our Emergency Service
When you work with us, you can expect world-class services. However, you may be unaware of how our service visits typically function. First, our team will evaluate your property and provide an accurate estimate for our services. Once we've discussed the details of your emergency service, we'll get to work removing the hazard. We're fully-insured and recognized by the International Society of Arboriculture, so you can count on safety and quality. Ask our team about how we can help with the claims process as well!
Here for You 24/7
Emergencies don't operate on a 9-to-5 schedule, so we don't either. Our tree removal services are at your disposal 24/7, whenever disaster strikes. Give us a call, and our team will be out to your property as soon as possible to eliminate the threat. We know time is of the essence, but we also take precaution to evaluate the situation and determine the best course of action. At the first sign of an emergency, get in touch with the team at Ottawa Valley Tree Experts.
Reach Out to Our Tree Experts Today