Skip to Content
Take Advantage of Our Tree Removal Services
While tree removal is an intensive process, it's often necessary. Although you may not feel you have the time or money to call in the professionals, you'll save money taking the tree down rather than waiting until it causes damage. After all, repairing your property and dealing with potential injuries incurs a much higher cost than simply calling the team at Ottawa Valley Tree Experts as soon as possible. Our team based in Ottawa is the go-to resource for commercial and residential tree removal. Whatever type of tree service you need, you can count on our team to get the job done safely and efficiently.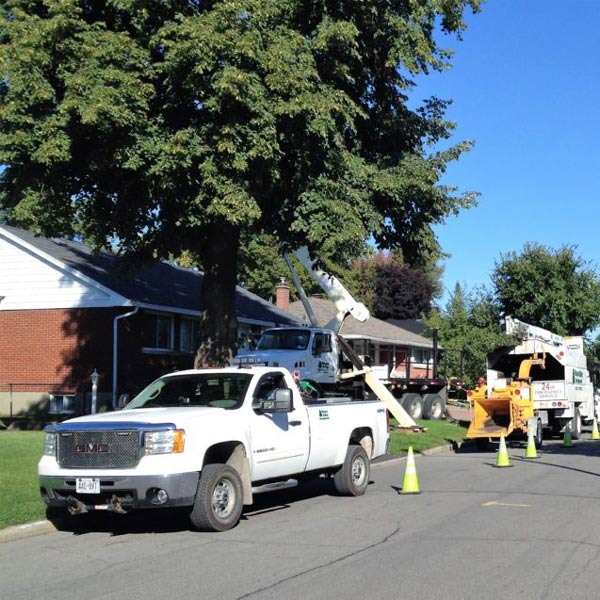 Signs It's Time for Tree Removal
Deciding to remove your favorite tree from your property can be sad, but sometimes it's necessary to ensure your safety. The team at Ottawa Valley Tree Experts does everything possible to help you maintain your trees' health, but many times, tree removal is the best option. Look for the following signs that it's time to talk to professional arborists about having a tree removed:
Leaning branches or abnormal growth patterns
Root decay
Tree trunk is beginning to split
Chipping or peeling bark
Dry or discolored leaves
Trees are growing too close to power lines
The tree is in the way of a new construction project
Branches that don't bud
What Does Tree Removal Entail?
Our experienced team knows the best service is tailored to each customer's specific needs. However, when you schedule tree removal with us, you can expect the same general steps. First, we'll clear the area of any potential hazards and make room for the length of the tree. Next, we'll evaluate the tree and determine the best, safest way to cut it down. Because safety is always our first priority, we also plan for an exit route should the tree fall in the wrong direction. Although this is uncommon, we want to make sure our team members aren't in harm's way. Now it's time to start cutting. We'll start with the undercut and move on to the back cut, after which the tree should begin coming down. Before you know it, your unhealthy tree will be removed. We complete the process by cleaning all remaining debris.
Serving Homeowners and Business Owners
Ottawa Valley Tree Experts is the team to call whether you're a homeowner or a business owner. We proudly serve both residential and commercial clients throughout the Ottawa Valley. We know diseased, falling trees pose a serious threat to your family, employees, and patrons. Our team takes every measure to ensure your tree comes down safely, no matter how close to a walkway it leans. Don't allow an unsightly tree to damage your business's curb appeal or impact your enjoyment of the landscape. We provide efficient tree removal, tree trimming, insect control, and much more.
Reach Out to Our Tree Experts Today